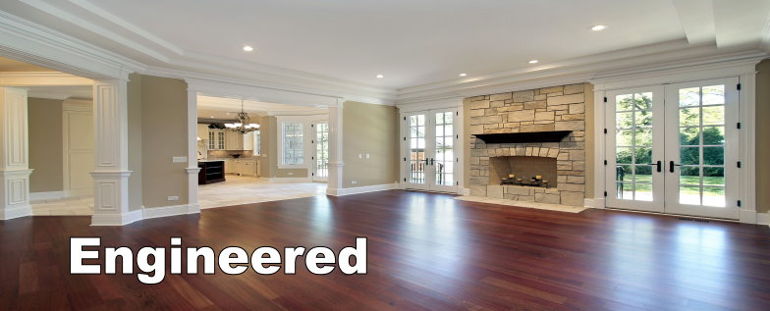 Engineered wood floor is a compromise between solid hardwood and laminate and also an environmentally friendly way to have wood floors because it requires less quality wood to make a great-looking floor.
Engineered wood floor construction consists of 3 to 10 layers of wood(typically 5) laminated together to form a plank. Each layer of wood are oriented in different directions then glued under pressure. The top layer, called the "wearing layer", is approximately 3 mm thick and is made from domestic or exotic wood.
This construction technique results in a wood floor that is more stable and less affected by moisture than a 3/4" solid wood floor.
The construction of engineered floor allows the plies to counteract each other, which will stop the plank from growing or shrinking with the changes in humidity or temperature.
These floors can be installed directly over concrete and may be installed in below grade applications unlike solid wood floors.
Most engineered floors can be installed using nails, floating (requires glue) or interlocking engineered floating wood flooring that requires no glue.
The lengths of the plank will be random and range from 12″ – 60″ in length.
Things to know
Engineered wood flooring works well in kitchens, basements, and bathrooms where light moisture might be present. Still, it doesn't hold up to really wet areas such as basements that flood frequently.
Can be periodically sanded to revive the wood grain and erase scratches. Depending on the thickness of the finish layer, engineered flooring cannot be sanded more than 1-3 times ( It is advisable to employ professional services for sanding, due to low tolerance of engineered wood flooring that may result in revealing the plywood).
Engineered wood flooring is pre-finished, which eliminates the mess, extra time and vapors associated with applying the finish coats on the job-site and you can walk on it as soon as it is installed.
Engineered floors can be glued down directly to concrete, they can be installed above, on, or below grade. These floors can be installed over radiant heat.
Engineered floors usually have a lifetime structure warranty.
Engineered vs solid hardwood
Engineered flooring advantages
Engineered construction counteracts the natural tendency of wood to expand and contract with seasonal changes in temperature and humidity.
It's a better choice for installation over concrete slab.
Engineered floors are pre-finished often with extremely durable finishes including UV-cured polyurethane and aluminum oxide for extra wear ability. Many are guaranteed for 25 years or more.
Pre-finished floor also means that there is much less mess and it takes less time to install
Engineered hardwood flooring is generally thinner than solid hardwood. That means it can be used in many remodeling projects where a solid 3/4inch would create a height problem. Engineered floors range in thickness from 1/4 to 3/4inch.
Engineered flooring disadvantages
Where hardwood floors can be sanded and refinished many times, engineered floors may be refinished only once or twice depending on the thickness of the top veneer and
recommend that refinishing be done by a professional.
An engineered floor will maintain height irregularities of the substrate. In short, a bump in the sub floor means a bump in the engineered floor unless the sub floor is fixed first. Site finished flooring is sanded flat, so is more forgiving of slight irregularities.
Finally, wood floors add value to the home in which they are installed. It's arguable whether engineered wood floors carry the cachet of solid wood floors as far as resale value.
---