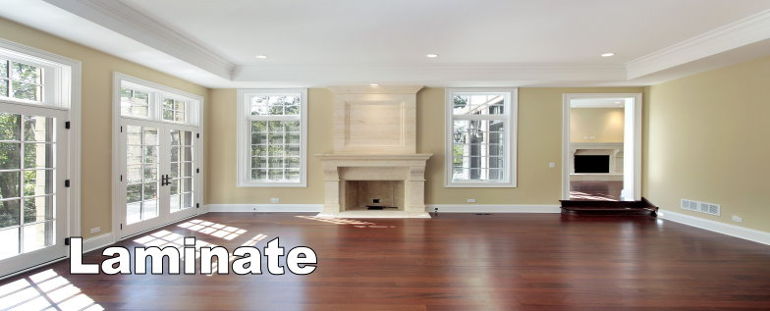 LAMINATE CONSTRUCTION
Laminate flooring combines natural looking designs with a tough, durable finish and can be used in almost any area of the home. Today's laminate floors are available in a multitude of designs, patterns, and textures offering realistic designs that replicate the characteristics of the popular hardwood floors.
To understand laminate, you should think of a four-layer cake.
The backing or bottom layer, is a melamine plastic that lends dimensional stability to the planks and also helps guard against subfloor moisture.
The core board is generally made from high-density fiber board or particle board which may also contain melamine plastic resins that help improve the moisture resistance.
The decorative layer is a printed high-resolution photo reproduction of wood grain or natural stone adhered on top of the core board giving the floor its look.
The wear layer, providing protection and stain resistance is stacked on top of decorative layer. Many top layers also contain aluminum oxide and that creates exceptional durability.
All four layers laminate are combined in a high-pressure process.
LAMINATE FLOORING TYPES
Glueless laminate flooring is the largest segment of all laminate flooring installation they come with many types of tongue and grove locking system.
Glued laminate flooring require a special formulated glue to be applied to the tongue and grooved areas.Laminate flooring with attached underlay come with different types of tongue and grooved locking systems and an attached underlayment to reduce noise levels
Preglued laminate flooring come with glue already applied to the tongue and grooves which makes these floors easy-to-install.
THINGS TO KNOW
Laminate flooring is a remarkably durable surface, stain resistant and does not need to be varnished or waxed.
Very easy to maintain.
These are floors for busy households, especially homes with kids and pets.
Today's laminate styles consist of authentic wood visuals, rich ceramic looks or natural stone designs with different surface textures to beautifully accommodate any room in your home.
Ridging or peaking where planks are joined together may also occur. This is considered normal and nothing for you to be concerned about.
LAMINATE VS HARDWOOD
Laminate flooring advantages:
Laminate flooring is available in water resistant and waterproof ranges and can therefore be installed into basements, kitchen and bathrooms.
Real wood flooring would be a lot more unstable in this kind of environment because of the humidity levels.
Laminate flooring usually comes with a 10 to 15 year warranty against staining and fading from the sunlight.
Laminate flooring disadvantages:
Laminate floors are installed using a floating floor system meaning the planks sit directly on the nderlayment and are not anchored to the subfloor on the bottom but rather anchored by the edges. When walked upon this type of installation can produce a hollow sound.
If you don't mind paying the extra, and prefer the character of real wood then hardwood floor is probably your best choice. A real wood floor generally costs 20% to 25% more than an identical floor that is laid using laminate flooring. With hardwood floor, this initial extra money will probably be recouped on the increased resale value of your home.
Over a period of a few years as the laminate flooring may eventually need replacing, whereas the real wood flooring could be sanded down and refinished like new once again.
Laminate floors are very resistant to scratches, but can be chipped. Once damaged, they cannot be easily repaired and in most of the cases you may find yourself replacing the entire floor.
The bottom line hardwood costs more to purchase and install, but lasts longer and offers greater resale value to a home. Laminate is cheaper, easier to install and does provide considerable durability but not the same longevity as hardwood.
---