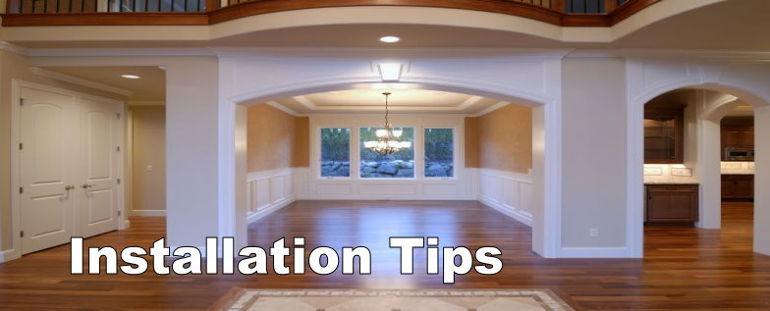 Hardwood floor installation tips
There are four methods of installing hardwood flooring:
Glue Down: recommended adhesive is spread on with the proper trowel to adhere the wood flooring to the sub-floor. Only the engineered wood floors and parquets can be glued down, solid strip floors can only be nailed or stapled.
Nail Down: nailing cleats are used to attach the flooring to the subfloor. Solid Strip floors can only be installed on wooden subfloors on grade or above.
Staple Down: 1-1/2 to 2 inch staples are used to attach the wood flooring to the subfloor.
Floating: floor is not mechanically fastened to any part of the subfloor.
Tips
Be aware the "cost per square foot" is just one component of the entire project cost.
Here's a list of potential additional expenses you may incur:
Furniture removal/replacement.
Demolition/disposal of old floor covering.
Subfloor preparation. Depending on the condition of the subfloor, it may require additional work.
Product delivery.
Materials required to complete the installation. Your new hardwood floor may require additional materials to install it properly ( thresholds, stairnose ,baseshoe) .
Once the installer is in your home, go with him over this list:
Determine the size of the flooring area you want to cover.
Show him a sample of the flooring you are considering to help him determine what transition strips you will need.
Discuss underlayment to determine if you will need a moisture barrier.
Discuss if it will be necessary to remove the existing flooring before putting down the new one.
Ask him to confirm that the conditions of your home are suitable for the flooring you want to install.
Ask for an itemization of any additional charges : flooring removal, repair of subfloor, cutting of doors and other work related to the finished product.
Discuss where the sawing of boards will occur. Specify if you want him to seal off the rooms with plastic and identify who will be responsible for final clean up.
Get the proposal in writing.
---